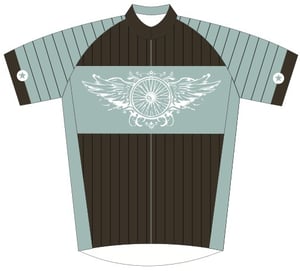 $

56.00
Limited availability.
About:
Scott Shore describes MettleVelo: "MettleVelo was born out of a love for great design and an almost obsessive desire for all things bike. I ride a lot, race a little and think about bikes and bike culture far too often. I also make pretty pictures for pay. The two had to run in to each other at some point - and out came MettleVelo: Custom Bike Culture Design."
Regarding the design, Scott says, "Gangster pin stripes under organic wings, wheel and flourishes creates a juxtaposition that makes you want to put this bad boy on and hit the road, trail or next century."
The Deets:
-Item # SM1010/SF2010
-Artist Designed by Scott Shore of MettleVelo
-100% polyester
-Coolmax
-Sublimated graphics
-3/4 length invisible zipper
-3 rear pockets
-Product will ship in 1-2 days
Sizing, short sleeve cycling jersey:
Men, chest in inches
XS – 34-37
S – 37-38
M – 38-40
L – 40-41
XL – 41-43
2XL – 43-45
Women, chest in inches
XS – 32-35
S – 35-37
M – 37-38
L – 38-40
XL – 40-41
2XL – 41-43